Wedding & Engagement AV Hire
Our Service
Finding a reliable wedding or party sound hire service in New Zealand can be tricky and time-consuming. Edwards provide the best wedding AV including extras such as wedding lights hire and wedding video hire, as well as a selection of wedding sound systems, suitable for every venue, indoors or outdoors.
Operating in Auckland and the Upper North Island since the 1960's, Edwards are here to help. We offer three types of package:
DIY: collect and operate the sound system, video and lighting hire package yourself, but rest assured that we will talk you through everything before you leave.
Deliver, set up and test: have our crew set everything up and test all the AV hire equipment onsite. And yes, we will still take you through it all, twice if you don't entirely trust the best man!
Deliver, set up, test and operate: have our crew set up, test plus one of our technical operators run all your sound, video and lighting for the ceremony and / or the reception. We can even video and edit the event for posterity, or live stream it to folk overseas!
Within each option, we have solutions to suit your budget and your style of wedding or party.
Livestreaming to connect remote guests
Want to livestream to remote guests, or have remote guests play a part in the big day? Edwards have been connecting guests and couples for as long as streaming has been around. Edwards recently attended a virtual open day at Kumeu Valley Estate, Auckland. Watch the video here.
Edwards wedding sound packages
Learn more about our other equipment for hire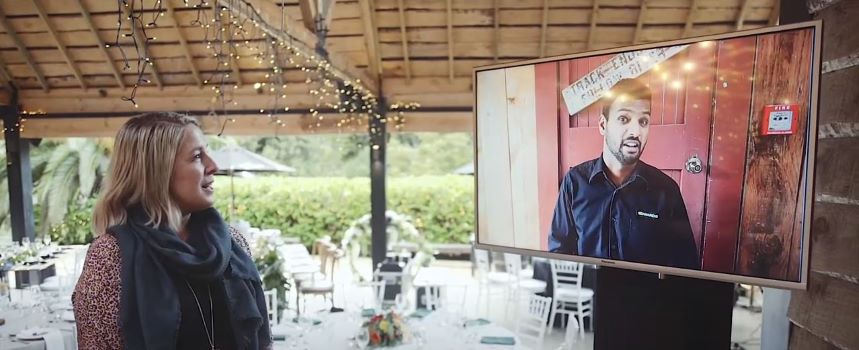 Why Edwards?
Expertise: we have been operating since the 1960's and have a fair few weddings under our belts. We own all our own equipment so we know how to use it and how to explain how to use it. Because we run wedding and party sound, video and lighting ourselves all the time, we can also give you a heads up on things to watch out for!
Support: we are a bricks and mortar business based in Penrose. We do not hide behind a mobile phone number and a PO Box. We have a showroom where we can meet you face to face and talk about your requirements. Best of all we have a demo room so you can see and hear your sound, video and lighting show.
Service: we have Account Managers who will ask the right questions to fully understand your requirements, and recommend the perfect package for your Big Day. We have a Hire team who will add your wedding to our booking system and ensure that we will have the PA System, wireless mics, lighting that you need available on the wedding day. We have Warehouse staff who will ready the equipment, check that everything is there and that it works. We have Technical staff who will walk you through the equipment. And if you get home and can't remember a thing we talked about, we have a Customer services team who will talk you through it again!
If you are considering using our crew or operators learn more about our Men in Black.

What next?
Contact us for a free no obligation quote or consultation
Enquire Now
---