The Artist T8800 is lightweight, high powered and multi-channel audio power amplifier. Weighing only 11.5kg this puts out 8 channels of 800watts each. The high efficiency ClassD structure means that you get 6400 watts of audio and only draws 2.5A from the mains.
In a compact 2U chassis, this can run as 8 separate channels of 800w (4 or 8 ohm), or it is bridgeable into 4 x 2000w amplifiers (into 8ohms), or all outputs can be parallel copies of one input.
High fidelity audio and state of the art technology with full protection suite (including intelligent limiting) make this perfect for live music, public bars, DJ and entertainment systems as well as conference and event venues and anywhere.
The power supply will cope with fluctuating mains voltage instantly adjusting to maintain excellent dynamic performance and consistent audio quality.
Multi-channel audio power amplifier 8x800W/4 x 2000W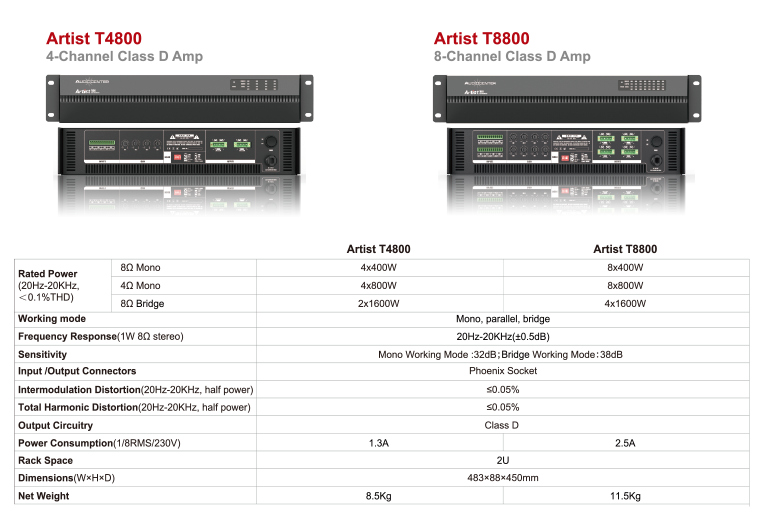 Power Amplifier - 8 channel - 8x800W@8ohm
Product Code: T8800
U.O.M: ea
Price:

$2,499.00

(GST Excl.)
---
Need any help or advice?
We're always available to offer advice on any of your requirements or orders.
Just drop us a line, or leave us your: