Ellerslie Event Centre's Transformation is Complete

01-Jan-0001

Edwards
Video projectors, large electric screens and digital HDMI widescreen video throughout complete the overhaul of Ellerslie's Event Centre.
Ellerslie's upgrade began way back in 2014 with a thorough evaluation of what could be re-used and what needed to be replaced. The audio system was upgraded and the Crestron Control system installed during 2015 (read about it on our Installations page). The video upgrade, stage 2 of the project, commenced in 2016. With the Crestron Control System already installed and running the audio, Ellerslie staff were dying to be able to run the video at the flick of a button too.
The original brief demanded quality, future proofing and efficiency – and Edwards hit the mark again in stage 2.
"The quality of our audio visual offering has been taken to the next level. The standard of the equipment installed and the control mechanisms have made a huge difference. We have seen an uplift in sales and are able to offer our clients a superior product at a great price."
- Craig Fenwick, Executive General Manager, Hospitality & Events
Quality
Edwards selected a 16 x 16 digital video distribution matrix capable of handling HD video and routing it from anywhere to anywhere. Wide-screen and full HD data projectors were installed throughout the venue accompanied by large motorised screens.
| | | |
| --- | --- | --- |
| | | |
| Video system installation | Automated screens | Video matrix |
Future proofing
Everything is completely automated and controlled by the 7" Crestron wall panels. Users can make audio adjustments, group projectors together, route inputs from anywhere in the building to any combination of screens and turn everything off at the press of a couple of buttons.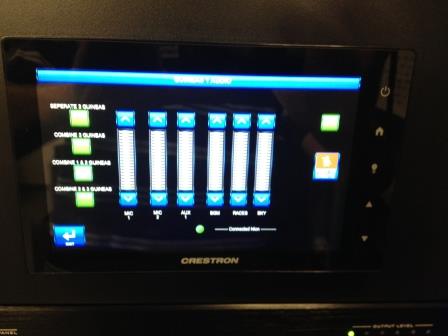 Crestron Control System
Efficiency
The clients benefit from larger than normal screens and lower installation and hire costs, and the venue benefits from the lack of "wear and tear" on equipment and cables being repeatedly installed and packed away. Remote monitoring of projector lamp hours, status and the ability to make adjustments from home means a saving on technicians being called in to correct simple mistakes if they do arise.
Plus the efficiency gains are only part of the equation when permanently installing equipment that is used on a regular basis. No more broken lamps, missing cables, battles with screen tripods and time wasted aligning the data projector image!
Read about the entire installation
Contact Now