Interactive TV Trolley for schools and colleges

Interactive TV Trolleys for NZ Schools & Colleges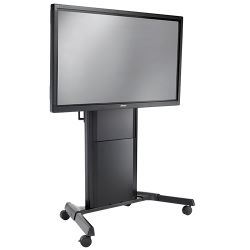 Easy to use, simple and safe to move, and robust enough to survive any classroom, choose your Edwards mobile TV trolley:
1) Select the size of your Interactive TV: 65", 75" or 86"
Edwards offer the LG TR3BF series, a user-friendly interactive TV designed specifically for schools. Compatible with Android, iOS, Windows and Chrome, the interactive TV offers up to 20 points of multi touch to support a truly collaborative learning space. Six students can Chromecast to the TV simultaneously (using the pre-installed ScreenShare Pro) and annotation is a breeze on screen or via a connected device.
2) Select your mobile TV trolley: manual or electric
Electric height adjustable TV stand on wheels
Our Edwards automatic TV trolley lets teachers easily find the perfect position for themselves or their students, with 660mm of vertical lift at the press of a button. Includes a storage space and a sensor that halts and reverses the screen in the event of an obstruction – avoiding pinching fingers or damaging the TV. A sturdy, robust solution ideal for use in schools looking for maximum accessibility and flexibility.
Manual height adjustable TV stand on wheels
A sleek and tidy mobile interactive TV solution with heavy duty poles to display the screen at a max height of 165cm and a min height of

122cm. Complete with cable management, lockable caster wheels and a spacious shelf for AV components.
Manual adjustment of the TV height can be made if required, without removing the screen, by one person using a regular power drill.
3) Choose your accessories
Soundbar: fill your space with sound and clarify speech, ensure every student can hear.
Apple TV: easily connect teacher and student iPads, iPhones and Macs
4) Get in touch today!
Our education sales team are ready to help you make the right choice for your learning space: email or call today for a quote.
Already have a monitor? We can help you find the right monitor TV stand too!